Pandit Nikhil Banerjee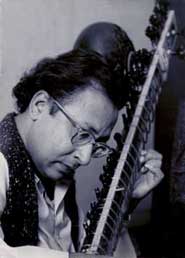 In 1947 Pandit Nikhil Banerjee was accepted as a disciple of Ustad Allaudin Khan, the most renowned music teacher of North India, father of Ustad Ali Akbar Khan and teacher of Pandit Ravi Shankar. In 1968 he received the National Award title of 'Padma Sri' and was named outstanding musician of the year by the Sangeet Natak Academy.
"He was an incomparable sitarist who was master of all his instrument's multi-faceted repertoire. The purity of his style and the seriousness in his music reflected a devotion to the total development of the Raga that allows for nothing short of perfection. Nikhil Banerjee played like an angel on the sitar and I cannot imagine a single member of the audience not wanting many more hours of such brilliant music"
- Extracts from The Times.
A small tribute site for
Pandit Nikhil Banerjee
.
A Documentary on
Pandit Nikhil Banerjee
.
Being British born and educated Sheema is also conversant with western classical and modern music.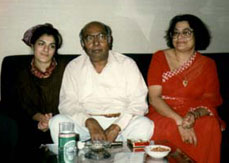 Sheema, her mother and Ustad Ali Akbar Khan
Study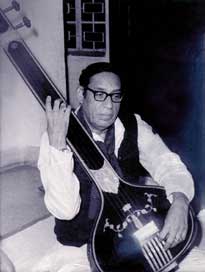 Ustad Amir Khan
Sheema Mukherjee
began her study of North Indian classical music at the age of five with the guidance of one of the greatest Indian classical vocalists, Ustad Amir Khan.
She was presented a sitar at the age of nine by her illustrious uncle Pandit Nikhil Banerjee (
far right
), under whom she began her study of the sitar in the rigorous and disciplined manner of traditional Indian classical music teaching.
Sheema studied further with Dyanesh Khan in India and with Aashish Khan, who gave much of his precious time whilst touring to teach her.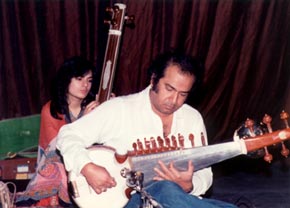 Sheema with Aashish Khan
After the death of Pandit Nikhil Banerjee in 1986 she began studying with the great Ustad Ali Akbar Khan at the Ali Akbar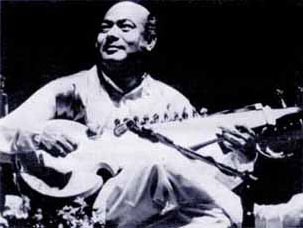 Ustad Ali Akbar Khan
College of Music in San Francisco as well as privately whilst staying at his home.